Caring for our elders is not only a responsibility but also a heartfelt commitment to ensuring their well-being in their vulnerable and innocent phase of life. At Kalaimagal Home Care, we take pride in offering safety and the finest care for your loved ones. With a wide array of caregiving services available, we cater to elders across Coimbatore and Tamil Nadu, providing them with the support they truly deserve.
Our patient care services are thoughtfully designed to meet the unique needs of each individual. From expert home nursing and attentive baby care to compassionate old age care and reliable patient care, we offer comprehensive solutions tailored to ensure the comfort and happiness of your elders. At Kalaimagal Home Care, we undergo a meticulous selection and training process, ensuring our caregivers are equipped with the necessary skills and empathy to provide top-notch service in Coimbatore. Join us as we delve deeper into the methods and practices that make Kalaimagal Home Care a trusted name in elder care.
Discussion with the Care Advisor:
Kalaimagal Home Care is committed to providing the necessary services to patients in need, ensuring their well-being and comfort. Our approach revolves around understanding the individual's care needs, health status, and essential preferences, shaping a personalized care plan that optimally caters to their requirements.
When you reach out to Kalaimagal Home Care, our dedicated care advisor will take the time to listen to your concerns and gather crucial information about the patient's condition. This initial discussion helps us gain valuable insights into the patient's unique circumstances, allowing us to design a care plan tailored to their specific needs.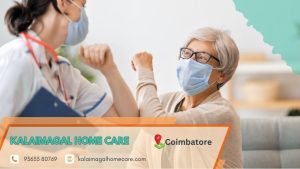 Our care advisors are trained professionals who possess a deep understanding of various medical conditions and caregiving requirements. They will guide you through the entire process, addressing any questions or uncertainties you may have, and providing the necessary support during this crucial decision-making phase.
Based on the information gathered during the discussion, our care advisor will collaborate with you to develop a comprehensive care plan. This plan encompasses various aspects, such as medical assistance, daily activities, medication management, and emotional support, ensuring a holistic approach to caregiving.
At Kalaimagal Home Care, we value the importance of family involvement and preferences. Our care advisors actively encourage open communication with family members to ensure everyone's concerns are considered in the care plan. By taking into account the patient's preferences and desires, we strive to create a nurturing environment that fosters trust and familiarity, ultimately contributing to a positive and enriching care experience.
In conclusion, Kalaimagal Home Care's discussion with the care advisor plays a pivotal role in shaping the patient's care journey. We believe in delivering compassionate care that goes beyond the ordinary, offering a sense of security and peace of mind to both the patient and their loved ones. Trust us to be your partner in providing the best possible care for your beloved elders, and let us embark on this journey of care and support together.
Preparing the Plan for the Care of the Patient:
At Kalaimagal Home Care, we are dedicated to providing essential services to patients, tailored to their individual needs and preferences. Our care planning process is meticulously crafted, taking into account the patient's care needs, current health status, and other vital considerations. By combining medical expertise with a compassionate approach, we ensure the care plan takes shape optimally, guaranteeing the highest level of comfort and well-being for the patient. Trust in Kalaimagal Home Care, Coimbatore to deliver personalized care that prioritizes the patient's dignity and happiness, making their journey towards wellness a seamless and fulfilling one.
Personalized Solution & Implementation:
At Kalaimagal Home Care, we understand that every patient's care needs are unique, and we believe in providing personalized solutions to cater to those precise requirements. We prioritize the patient's comfort and well-being, offering them and their family members the freedom to make any necessary custom changes to the care plan, ensuring it aligns perfectly with their preferences.
Our diverse range of care services encompasses a wide array of options, including emergency services, diagnostic or lab tests at home, diabetic care, geriatric services, and even ICU at home, among many others. With each service, the hallmark of our approach remains the same – impeccability, efficacy, and proficiency of the utmost level.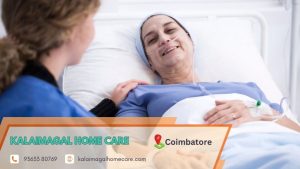 When you choose Kalaimagal Home Care, you can rest assured that you will receive the best care solutions and services available. Our team of patient care professionals at Coimbatore is highly skilled and experienced, well-equipped to handle any caregiving situation with warmth, diligence, and expertise. We take pride in delivering care with compassion and understanding, ensuring our patients feel valued, respected, and safe throughout their care journey.
The process begins with a thorough assessment of the patient's needs and medical condition. Our care advisors collaborate with the patient and their family to gain a comprehensive understanding of their specific requirements, preferences, and concerns. Based on this detailed assessment, a personalized care plan is meticulously crafted, encompassing medical care, daily assistance, medication management, emotional support, and any other necessary services.
We maintain open communication with the patient and their family members, encouraging them to actively participate in the care planning process. This collaborative approach ensures that the care plan is a reflection of the patient's unique personality, preferences, and values, creating a nurturing environment that fosters trust and familiarity.
Throughout the implementation of the care plan, our team of caregivers, nurses, and medical professionals diligently carry out their responsibilities, providing the highest standard of care with dedication and empathy. The patient's well-being and comfort are at the forefront of our priorities, and we continuously monitor and adapt the care plan to accommodate any changes in their condition or needs.
At Kalaimagal Home Care, we believe in delivering more than just medical attention; we provide holistic care that nurtures the mind, body, and spirit. Our commitment to excellence ensures that each patient receives the best possible care, empowering them to lead fulfilling lives while being in the comfort of their own home.
In conclusion, our personalized solutions and meticulous implementation set Kalaimagal Home Care apart as a trusted name in the healthcare industry. With a dedicated team of professionals by your side, you can be confident that your loved ones will receive the utmost care and support they deserve, making their care journey a positive and enriching experience.
Please visit our location for more details:
https://goo.gl/maps/eWHN7TYVm8qchRNm9
Learn more: https://posts.gle/rCJmHT